Hi,
When doing a lot of development you need to use the field ID very often and I would like to suggest a tiny enhancement to make life easier.
Currently, to get the field ID you copy and paste the value which is tricky to get just what you need when highlighting the field ID only and not the label. Then if you click it a second time it pops up with two messges.

What would be awesome is of the field ID is in a field like this.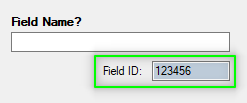 It makes it easier to copy the ID and you can still double-click to get the other functionality.
Thanks a ton