Hello!
I am trying to figure out if it's possible to use the UNIQUE().length formula in combination with other criteria.
I would like to count all the unique values in subtable Column B, but only if they also match X criteria in Column C
As an example, in the attached table, I would want to be able to count the Unique Items in Column A, but only if also sold by Tom. While there are 3 unique items in Column A, only 2 unique items were sold by Tom.
I am sure this is possible but I can't get any formulas to work!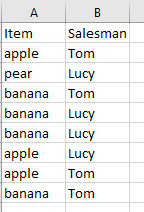 Thanks,
Terri