Hi,
I use Link and Load a lot, and will often have over 10 fields on a sheet that all need the "sync" button checking.
At present, I am clicking on Tools and using the cog next to each Link.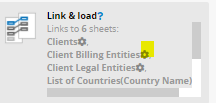 However, going form one to another is fiddly, and I often find I have accidentally missed out a link.
It would be super helpful if I could click on the cog once, and then from that menu scroll through the different links, either with a back/forward button, or even named tabs similar to when creating Link and Load fields.
Just an easy navigation tool at the top of this menu would be really useful.

Thanks,
Terri