Error Message:
Your formula should reference the cell containing field label. Please make sure the value LN10 is referencing the correct cells.
My thought:
Looks like LN10 was recognized as a reference to a cell rather than formula.
Below is how I apply the formula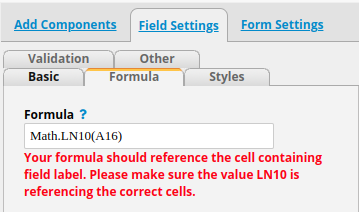 Are there hidden rules to apply formula under Math.*?
Please share with me how you apply formula under Math.*, especially LN10.
Thanks,
Jonah
UPDATE
I just realize I could use Math.log(A16) to get the natural log of A16. Therefore, my issue is solved for now. But I still think that this page is not easy to understand.